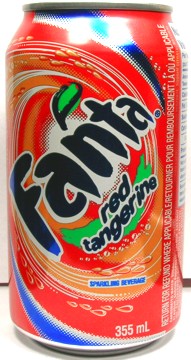 Whither Red Tangerine
I re-discovered the delight of F
anta
a few years ago, thank you Dollar Stores. In fact I became a connoisseur of their wonderful Red Tangerine drink. It had everything a person wants in a pop, sparkly and a combination of tart and sweetness. I came to the conclusion that this might be my second favourite flavour of pop, after venerable
Coca-Cola
, of course.
Lately, I've been searching for Red Tangerine at my favourite store and noticed it wasn't available. I thought, its a temporary aberration, one of those in between the dropping of the next supply. Yes that had to be it. After all, the weather was warm and what better way to quench a thirst then with Red Tangerine Fanta. I went to another store, and noticed no Red Tangerine. At least the second store had some Fanta products, but nothing on what I wanted.
Now I'm getting suspicious. What has happened to Red Tangerine? I mean here's a flavour the gained some fair press. One
reviewer
did wax poetic about the beauty of the pop.
Another visit to another store revealed ths same fact, Red Tangerine has disappeared.
I went to the website and wrote a letter. Here is the response:
As you may know, The Coca-Cola Company offers a portfolio of more than 500 brands and 3,300 beverage products in more than 200 countries. Taste and preferences vary around the world. For this reason, some Coca-Cola brand products are only available in certain countries or areas. However, please be assured that your comments have been shared with the appropriate management within the Company.
I am thinking of sending another letter and it will be simple:
Give me back my Red Tangerine
We need Red Tangerine back.
Support the movement and write to Fanta.