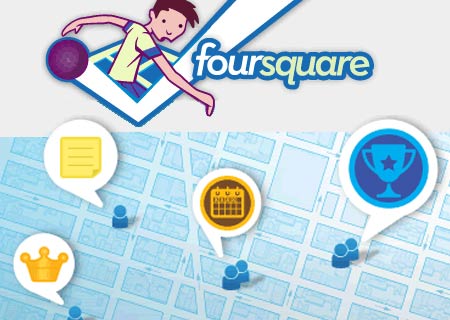 FourSquare
It's not enough we share our sitting around the house in our beanbag chairs, eating popcorn, in 140 characters or less. Or that we friend people and have others poke us, now we can tell people exactly where we are, by checking in to
Foursquare
.
What Foursquare does is allow you to announce your location to your friends through the web. What of us doesn't want others to know exactly where we are at any one time or another. Of course what it does is prove we don't actually live very interesting lives, at least from my perspective of myself. If you go to my Foursquare page you will discover I spend a fair bit of time at the
gym
. This is followed by probably Zehr's and a few other places. You can check my h
omepage
on Foursquare and discover the exciting life that I lead.
What makes it an interesting place is the fact it has rewards, for example you can get badges which denote different things you've done. If you really are interested, you can also buy those badges to wear to prove you are indeed the great person you are, or the sad sort of person that collects badges. As well, if you show up to the same place enough times you can claim the Mayorship of the location. Besides the ego stroking that entails, the plan has been to have retailers give special things to Mayors, who can prove they are the Mayor of the location.
To give the basics, to quote another blog:
Foursquare doesn't just broadcast your location to your selected friends; it also serves as a game, pairing virtual rewards with real activities.

Users earn badges as they visit different spots. Visit one location enough times and you become the mayor. You can use Foursquare to meet new friends, find out who else is in your area or compete against other people in your city.

"Elizabeth Fisher just checked in at the Algonquin Hotel." This message is now famous as a supposed shout out to Foursquare, which popularized the phrase "check-in" on the deliciously tech-savvy show, "Gossip Girls." Even Crowley couldn't resist and took to Twitter to post, "Check-ins on Gossip Girl?"

As of March 2010, Foursquare has 500,000 users and 1.4 million venues according to Tech Crunch, keeping Gowalla at a solid second place. Why are more people checking out Foursquare, leaving Loopt and Gowalla in the dust? It's simple.
You can read more by going to
Social Media Examiner
.
Another thing you can do is add locations. If the place you are at isn't listed, you can add it to the places to go.
It's obviously an interesting place, since recently it was acknowledged it had grown by
3400%
over the past year. It now has 6 million users.
I've been using it for the last number of months and its been fun. However, I've noticed a change; it started when I noticed a loss of mayorships. They were places that I had thought I wrapped up, including the Fit4Less. This was horrible, even though I had a super Mayor badge, there was a distinct deterioration.
I noticed a message on my phone, there was a change in the way things operated; from now on, if I use a web based phone rather then a smart phone with one of their apps then nothing I can do will count for mayorships. This is horrible. Not only can't I become a mayor, but as i witness I will lose mayorships. I know what you're thinking "Oh the Humanity". I can understand them wanting to get people to use their apps, it makes sense, but don't forget the rest of us. I'm sure I speak for a lot of people who don't have the required Smartphones.
If they are going to penalize us, then develop apps.
That's all I got to say.
For the record, I've checked into Fit4Less 47 times, and I'm not the Mayor.