Rail Travel, Granddaughter and Zucchini
To say the last couple of weeks have been interesting and hectic would be an understatement. I know there were a number of issues I wanted to blog on, but all had to sort of take a back seat to personal and family matters.
I'm sure there are a number of things which crossed my computer, things such as what has been going on in Ottawa with, well, who knows, at least things are quiet. Of course there is the problems of Iran, the show trials are moving forward.
Being in Ottawa was a good thing. It was good to see what is going on in our nation's capital. It is a lovely city after all, then again it has 30,000,000 people keeping it pleasant.
The reason for the visit, the birth of first granddaughter. Isabelle entered the world on July 29th. She is such a cutie. She came in at 10 lbs, so she's a healthy baby girl:
I may be biased, in fact I had a lengthy discussion as to who has the cutest baby girl with another couple. But really:
One of the issues I faced was returned to Brantford. Early on in the Ottawa visit, there was a strike of
Via Rail
. Fortunately, it was settled within a couple of days. To bring people, they offered a great sale, a saving of 60% to all who booked by last Friday. Taking full advantage of the situation, I booked my tickets and saved a lot of money. So off on the train I went:
It was great to travel by train. I did it early in the year to London so this was one of the longest trip I had taken for quite a number of years. The trip was pleasant and quite rapid. There were a number of stops, so it was interesting to check out some of the communities. I can tell you that the sale is a great action for Via, the ride from Toronto to Windsor was crowded, even the car to Brantford was full. So perhaps Via should consider keeping it up with volume sales rather then straight price. If they can fill each and every train, then they got to be making a lot of money. It is a pleasant way to travel, the roads were crazy but the rail was great.
On the trip, to continue the Canadian experience, I listened to
Gordon Lightfoot
's, "
Canadian Railway Trilogy
"
If you read the
Wikipedia
entry, you can read
what Pierre Berton said about the song.
Now what about the garden? Seems there was a lot of rain and it is thriving. In fact the
Zucchini
is doing quite well: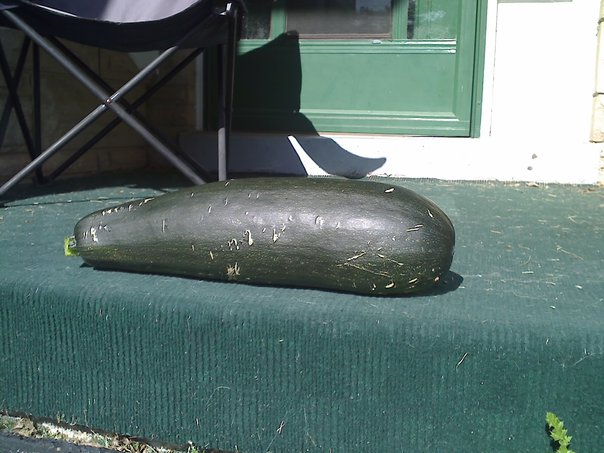 Yes that is a zucchini. It measures 16 inches in length and 16 inches at its widest point. Now that's large.
The funny thing I was concerned about things growing my garden.
I'll get back to blogging this month.
Peace